I am linking up with Tara at 4th Grade Frolics for a fun linky party!!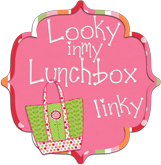 I take my lunch everyday. . . .but, somedays I do change my mind and decide to eat the school lunch instead. I usually pack either a ham or turkey sandwich, chips or pretzels and fruit. Sometimes, I also have cookies or brownies for dessert. Other days, I bring leftovers for lunch.
My lunch is from 11:30 - 11:55. This is a normal lunch time, but most of my firsties are very hungry by this time. We do have a morning snack, so that helps them some. I have a duty free lunch. I eat lunch with my team members and after all our chatting I usually have little time to eat my lunch (oh . . . also I sometimes have to take time to go to the restroom or make a quick copy if needed)!!