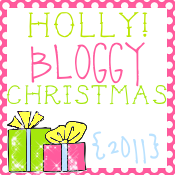 This year I participated in the Holly Bloggy Christmas gift exchange. I had so much fun creating and shopping for a gift for my partner. I want to thank Caitlin from
Ms. Preppy
and Sarah from
Kindergarten Korner
for putting this all together.
My partner was Randee from
How About Them Apples?
and I had so much fun creating her gift. I made her a personalize picture frame, ornament and journal. I hope she liked them.
I was so excited when my gift arrived. I will admit that it was very hard to resist opening it as soon as I got it. However, I did leave it under my tree . . . . until Christmas Eve and then I had to take a peek. I don't think I could wait any longer. My partner was Alicia from
Keeping It True in K-1-2
. She gave me a fantastic gift. I got scrapbook paper, stickers and glue dots. I love to scrapbook!! I also got a bag of Hershey's chocolate kisses. I love chocolate, too!! Thanks Alicia, I loved my gift!!
Thanks again Caitlin and Sarah for putting all this together!! I had so much fun!